100 Favorite Verses to Bring You Closer to Christ

by Shauna Humphreys


Can I Get An Amen?

Celebrating the Lord in Everyday Life


Celebrating Motherhood with the Prophets
Certain Women
Change Your Questions, Change Your Life
Christ in Every Hour

Anthony Sweat explores six of Christ's divine powers


Closer to Christ
Covenant Keepers

Unlocking the Miracles God Wants for You


Crossings

A Bald Asian American Latter-day Saint Woman Scholar's Ventures through Life, Death, Cancer & Motherhood (Not Necessarily in that Order)


Glorious Truths About Mary Mother of Jesus (Paperback)
Holy As You Are (Hardback)

Seeking Divine Moments in Your Ordinary Extraordinary Life


I Can Choose Joy with God

Stories of Hope from Faith Women


I Hope You Know How Much I Love You

and Other Advice for a Happier Life


In His Hands: Insights from Women
Joy in the Covenant
Live Up To Our Privileges

Women, Power, and Priesthood


Living After the Manner of Happiness
Living in Your True Identity

Discover, Embrace, and Develop Your Own Divine Nature


Love Life & See Good Days (Paperback)
Nephi's Handbook For A Happy Life
Oh, How We Need Each Other (Booklet)

A Message for Women


On the Path Home
Peace for a Palestinian

One Woman's Story of Faith amidst War in the Holy Land


Possibilities

Partnering with God to Become Your Best Self


Ready, Set, Be Still

How God used faith and personal revelation to transform my life


Rise Up!

When Life Gets You Down, Rise Up!


Simple Truths for an Abundant Life

From One Generation to Another


Sister Strong

Living in Harmony with the Women in our Lives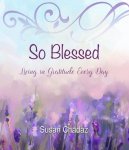 So Blessed
Strengthen One Another in the Lord

Talks From the 2018 BYU Women's Conference


Take Two Chocolates & Call Me in the Morning **

12 Semi-Practical Solutions for the Really Busy Woman


The Atonement of Jesus Christ

Reflections to Empower Your Life


The Christ-Centered Home

Inviting Jesus In


The Parable of the Princesses (Paperback)
Trial of Faith

Why a Lawyer abandoned his faith, augued against it, and returned to defend it.


When Times Are Tough (Paperback)

5 Scriptures That Will Help You Get Through Almost Anything


Why I Left the Mormon Church & Came Back
Worth the Wrestle